31 Best Gifts for Ballerinas
No need for you to jump around or pirouette to find the best gifts for ballerinas, as we have the best selection of gift ideas right here.
Whether it is gifts that will help them become a better ballerina or gifts that a ballerina will think are really cool, you will find the perfect gift for them right here.
Stirrup Tights
You cannot go wrong with Stirrup Tights when it comes to a good gift for a ballerina. They can never have too many pairs of these; these are very high-quality and will last a very long time.
You can even pick from four colors: pink, caramel, suntan, and light suntan.
Inspirational Ballerina Dancer Silver Pendant Necklace
This necklace features a heart-shaped pendant with a ballerina in the middle and comes engraved with the inspirational quote "She believed she could so she did."
The necklace is made from Sterling Silver and makes a great gift for a dance recital!
Little Girls Ballet Artwork
This lovely Little Girls Ballet Artwork set is one of the best gifts for ballerinas if you want something that lets them celebrate their love for ballet.
This set contains three amazing-looking pieces of art that will make her room or even a dance studio look absolutely fantastic! There is no way that they will not love this awesome set.
Ballerina Dancers Wall Decal
A really neat gift idea if she has a place she likes to practice would be these Ballerina Dancers Wall Decals. Even if she just puts them on her bedroom wall, she will think they are cool.
This set contains five wall decals, each with a different ballet move. They are easy to stick to the wall, and they cool very cool!
Cute Ballet Dance Bag
Available in six different styles, this Cute Ballet Dance Bag is a really cool gift idea for a budding ballerina. These bags look adorable; each one has a ballerina on it and comes with a ballerina keychain too.
What makes this a great gift idea is that it will come in handy for her when going to ballet class.
Long Sleeve Leotard
You can purchase this comfortable and stylish Long Sleeve Leotard in three different colors, which are pink, black, and white. She is going to feel amazing as she practices in this.
While this is a high-quality leotard, it is actually very affordable too. This is a great gift idea if you want to get her something that she will actually get a lot of use out of.
Pink Princess Tutu Personalized Plush Treat Bag
One of our more fun gifts for ballerinas is this awesome Pink Princess Tutu Personalized Plush Treat Bag. This can be personalized with her name, and then you can fill the treat bag with whatever you want.
It could be candy, toys, ballet stuff, or anything else you know will make her smile. She will love how this has a tutu design!
Ballet Dancing Nightlight
How amazing is this Ballet Dancing Nightlight? This is going to look so cool in her bedroom. This can change all kinds of colors, and it has different light show settings too.
This is going to be something that she loves to have on display, and it will make her room look really awesome when it is dark!
Ballerina Dance Kids Microfiber Sheet Set
This Ballerina Dance Kids Microfiber Sheet Set is super stylish and super comfortable!
She is going to love the way that this looks and also the way it feels when she is drifting off to sleep and dreaming of being on the stage as the star of a big ballet show! It comes with a sheet and also two pillowcases.
Nutcracker Ballet Throw Pillow
What a lovely gift idea this Nutcracker Ballet Throw Pillow is. It features the classic Nutcracker scene in a very stylish and interesting way, and it is actually designed by a real artist!
While it looks amazing, this is also nice and comfortable too, perfect for when they are trying to relax.
Personalized Ballerina Sequin Pillow
One of our more sparkly gifts for ballerinas is this adorable Personalized Ballerina Sequin Pillow. Kids love these sequined products where they can swipe their hands over them and change the design.
This pillow has a funky-looking ballerina on it, and you can also get their name on here too for that personal touch.
Ballerina Wall Sticker
You can make sure her room looks amazing and that she is always inspired to live out her ballerina dreams if you get her these Ballerina Wall Stickers.
These look amazing and while they are a whole lot of fun, they also have a lot of class about them too so they are something she will want to keep on her walls for many years.
Butterfly Shiny Sequins Dance Tutu Dress
She is going to love practicing and performing in this amazing Butterfly Shiny Sequins Dance Tutu Dress. This comes in four different colors, blue, pink, purple, and white.
This is going to be very comfortable for her to wear, and it is also going to make her look like a little superstar.
Fluffy 4-Layers Ballet Dress
This Fluffy 4-Layers Ballet Dress is available in 13 different designs. Ranging from all black to hot pink and everything in-between.
There is no way that she is not going to love wearing this. It will make her feel like a real ballerina star and it will help give her the confidence to keep practicing!
Ballet Dance Shoes
A good set of Ballet Dance Shoes is a must for any little ballerina; these shoes are just what she needs. These are nice and comfortable and will be great whether she is practicing or putting on a show.
You can even pick from six different colors/designs for these ballet shoes.
Sugar Plum Dancer Personalized Ornament
Not many gifts have the cute factor this Sugar Plum Dancer Personalized Ornament has. One side features a very cute little ballerina that is putting on a show.
On the other side, you can get a nice, personal and loving message so that this will be an ornament that she wants to cherish forever!
Ballerina Bunny Crochet Handmade Toy
One of the most adorable gifts for ballerinas that we have on this list is this lovely Ballerina Bunny Crochet Handmade Toy.
This is all made by hand, which gives it a much more special kind of feel to it. Not only can you pick what color of tutu the ballerina bunny is wearing, but you can also pick what color the actual bunny is.
Sterling Silver Ballet Dancer Necklace
You can get this lovely Sterling Silver Ballet Dancer Necklace in 6 different styles, but all of them look fantastic.
Each one features a sterling silver ballerina pendant with 5 round cut Austrian crystals and includes a sterling silver chain with extender
Faulks Ballerina Picture Frame
With this Faulks Ballerina Picture Frame, she could put a picture of herself in her ballerina tutu, a picture of her and her friends, a picture of her family, or whatever she wants!
This is such a cool and adorable-looking picture frame, and she is going to really love having this out on display in her room, showing off a moment that is special to her.
Personalized Ballerina Door Sign
If she loves to dance, perform ballet shows, and has a dream of being a ballerina, this Personalized Ballerina Door Sign is a great gift for her.
It features a very cute cartoon ballerina and is a lovely pink color. It lets people know whose room it is, and you can even pick from different sizes and customize the ballerina on the sign!
Polystone Ballet Dancers
If you have been looking for gifts for ballerinas with that special x-factor about them then this Polystone Ballet Dancers piece is just what you have been looking for.
This is the kind of thing that is going to be something she really loves having on display in her bedroom, and it will probably be something she keeps forever.
Ballet Slippers
Every dancer needs a good pair of ballet slippers. These last a long time and are comfy to wear.
Musical Ballerina Jewelry Box
This musical ballet jewelry box is decorated with whimsical decals and comes with 3 drawers and a rotating necklace rack. Open up the lid, and a ballerina starts dancing to "The Waltz of Flowers."
Perfect Ballerina African American Canvas Art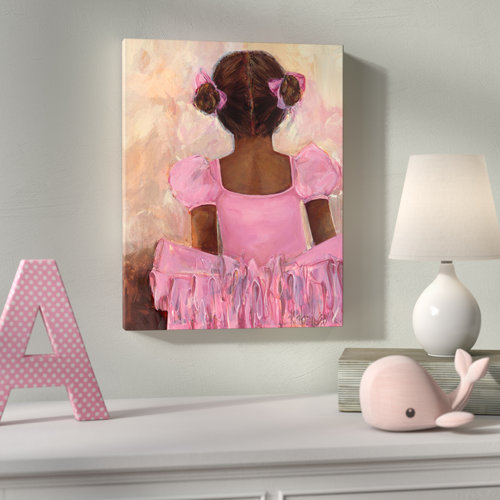 This beautiful canvas art is printed on canvas using fade-resistant ink. Perfect for a ballerina-themed bedroom. It is made right here in the USA.
Ballerina Vanity Set with Mirror
This vanity set with mirror is made from durable wood, not MDF, and painted with non-toxic paint.
The set includes a vanity with a drawer, mirror, and a stool decorated with swans, golden crowns, and pink ballet slippers. It is perfect for a girl's bedroom or playroom.
Barbie Ballet Wishes Fashion Doll
Ballet-loving girls will fall in love with the Barbie Ballet Wishes Fashion Doll! She wears a beautiful tutu with a satin top, a tiara, and pointe shoes.
Annabella Ballerina Unicorn Toy
Annabella ballerina is a cute plush unicorn wearing a white tutu, pink slippers, and a pink bow around her unicorn horn. Suitable for kids age 3+
Ballerina Pendant Necklace
This gorgeous ballerina pendant necklace with a stone set tutu will be a great gift for any ballerina or dancing girl.
Ballerina Books – Gifts For Ballerinas
Olivia the Ballerina
Ella Bella Ballerina and the Swan Lake
Fancy Nancy Budding Ballerina
If your tiny dancer loves to read, she'll love these books. Here are a few of our favorite picks! Click the name or image to learn more.
We hope you like the gifts for the ballerinas we choose. What will you be getting for your ballet lover this year? Let us know!
More Gifts for Girls
Sign up for our newsletter and receive a free Christmas planner!