Little ballerinas take their dancing very seriously and are very dedicated. If you're looking for gifts for ballerinas, look no further than our gift guide below!
We have found some wonderful gift ideas the ballerina in your life will love!
Our posts contain affiliate links for which we may earn a commission. As an Amazon Associate we earn from qualifying purchases.
Pandora Ballerina Charm
If your little ballerina has a Pandora bracelet, she will love adding this ballerina charm.
Ballet Slippers
Every dancer needs a good pair of ballet slippers. These last a long time and are comfy to wear.
Musical Ballerina Jewelry Box
This musical ballet jewelry box is decorated with whimsical decals and comes with 3 drawers and a rotating necklace rack.
Open up the lid and a ballerina starts dancing to "The Waltz of Flowers."
Perfect Ballerina African American Canvas Art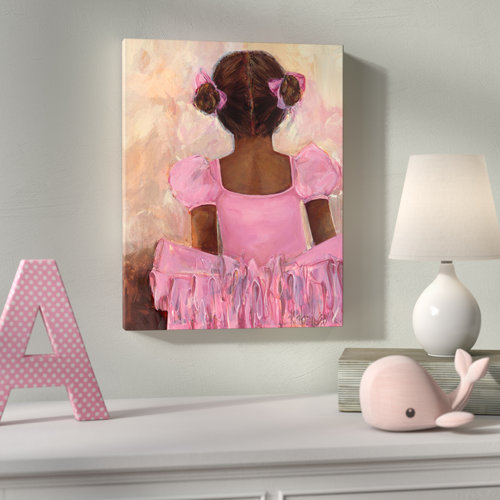 This beautiful canvas art is printed on canvas using fade resistant ink. Perfect for a ballerina themed bedroom.
Made right here in the USA.
Ballerina Themed Pillow Cover
These beautiful pillow covers are ideal for sleepovers.
Just pop a few extra pillows inside and she'll have a stylish extra bed for her friend to sleep on or just as extra seating to play games.
Ballerina Vanity Set with Mirror
This vanity set with mirror is made from durable wood, not MDF and painted with non-toxic paint.
The set includes a vanity with drawer, mirror and a stool decorated with swans, golden crowns and pink ballet slippers.
Perfect for a girls bedroom or playroom.
Girls' Dance Leg Warmers
These pink leg warmers are perfect for ballet class and will keep her muscles warm.
Barbie Ballet Wishes Fashion Doll
Ballet loving girls will fall in love with the Barbie Ballet Wishes Fashion Doll!
She wears a beautiful tutu with a satin top, a tiara and pointe shoes.
Annabella Ballerina Unicorn Toy
Annabella ballerina is a cute plush unicorn wearing white tutu, pink slippers and pink bow around her unicorn horn.
Suitable for kids age 3+
Melissa & Doug Ballerina Role Play Costume Set
Perfect for a game of dress up, this ballerina costume set features a tutu, bodice, slippers and a tiara.
Suitable for kids age 3-6.
Ballerina Pendant Necklace
This gorgeous ballerina pendant necklace with stone set tutu will be a great gift for any ballerina or dancing girl.
Metal Ballerina Jewelry Box
Made from metal, this jewelry box looks stylish on her dresser and hold all her necklaces and bracelets. The box plays "Fur Elise" when opened.
Ballerina Books – Gifts For Ballerinas
Olivia the Ballerina
Ella Bella Ballerina and the Swan Lake
Fancy Nancy Budding Ballerina
If your tiny dancer loves to read, she'll love these books. Here are a few of our favorite picks! Click the name or image to learn more.
We hope you like the gifts for ballerinas we choose. What will you be getting for your ballet lover this year? Let us know!
More Gifts for Girls
Sign up for our newsletter and receive a free Christmas planner!