15 Best Flocked Fake Christmas Trees
Flocked Fake Christmas Trees are a beautiful and welcoming addition to your Christmas decor. With their branches covered in clumps of snow, they look like the real snowy pine trees you see outside in winter.
Best Flocked Fake Christmas Trees
We have selected the best flocked fake Christmas trees available that are realistic looking, made from good quality materials and have many happy and satisfied customers who have been enjoying their flocked Christmas trees year after year.
Best Flocked Christmas Tree with Lights
Our posts contain affiliate links for which we may earn a commission. As an Amazon Associate we earn from qualifying purchases.
This stunner of a tree comes with luscious, heavy flocked branches and white lights. It's available in 2 sizes and includes yellow white lights.
We love that the tree is decorated with pine cones for that authentic look!
---
7.5 ft Frosted Green Pine Tree Pre-lit
This beautiful frosted tree comes with lush thick branches with 1012 tips and 700 UL listed clear lights.
We love that it's trimmed with red berries and pine cones, which gives it a natural and realistic look.
✔️Includes metal tree stand
✔️Warm lights that stay lit even if 1 burns out.
✔️5 year warranty on tree, 2 years on lights
✔️Trimmed with red berries and pine cones.
---
9ft. MARTHA STEWART Snow Frosted Pre-Lit Artificial Christmas Tree
This tree features snow-frosted tips and comes pre-lit with 850 clear incandescent lights that stay lit even after 1 burnout.
The Martha Stewart Christmas tree is also available in 5 and 7 ft.
Features at a glance:
9 ft. Christmas tree with snow frosted tips and pre-shaped Memory wire branches.
Instant Power Technology carries power through the tree from the inline foot pedal up to the discreet Topper Plug for an extension-cord free tree topper.
1,892 branch tips
850 clear incandescent lights with stay-lit technology.
Includes metal stand.
---
Flocked Aspen Fir Tree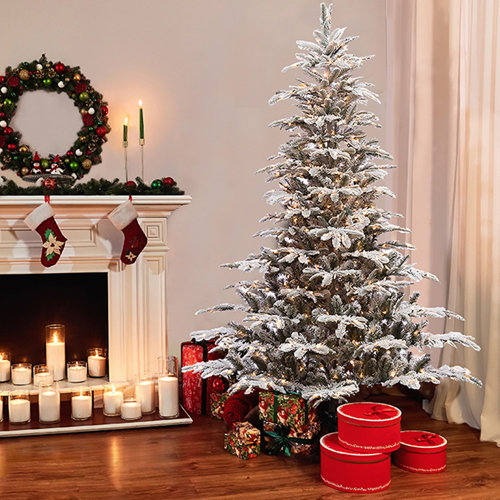 This beautiful 7.5 ft flocked Aspen fir tree comes with 1319 branch tips and 700 clear lights.
Included is an on/off foot pedal, a sturdy stand, and extra bulbs and fuses.
---
7.5 Ft Flocked Pine Tree Unlit
Classic Artificial Christmas Tree with snow-flocked tips for a wintry feel. The tree comes in 3 hinged sections for easy assembly and storage.
7.5 Ft high (also available in 9ft.)
48 inch wide
1,010 PE and PVC mixed tips
Unlit
Hinged construction.
Assembly in 4 sections.
---
Pre-Lit Flocked Bavarian Pine
This Bavarian pine looks like it's covered with clumps of freshly fallen snow. The branches of this tree are layered, so you can decorate with depth.
The tree features 3,980 tips, sturdy branches (that won't sag or bent), and 1,800 warm white lights with 8 functions and remote control.

Features at a glance:
7.5 foot tall.
Realistic-looking tree with fresh, true white, snowfall look.
64 inches base diameter.
3,980 branch tips.
1,800 LED lights.
Also available in 9ft. tall size.
Layered branches allow for decorating throughout the tree, not just at the outer edges of the branches.
---
7.5 ft Slim Flocked Christmas Tree
A pencil slim Christmas tree is perfect for anyone who likes a modern look or has a small room and it looks great in the entryway near the front door.
This flocked slim tree is 7.5 ft tall, has a 25-inch base diameter, 496 branch tips, and comes pre-lit with 350 clear lights.
Features at a glance:
7.5-foot pine tree with frosted branches.
Pre-lit with incandescent lights.
Includes black metal stand.
5-year warranty on the tree, 3-year warranty on the lights.
Other sizing options:
4.5 ft with 195 branch tips, 100 lights.
6.5 ft with 410 branch tips, 300 lights, 25-inch base diameter
9 ft with 623 branch tips, 450 lights, 25-inch base diameter
---
6.5 ft Flocked Slim Fraser Fir Artificial Christmas Tree
Spread some Holiday cheer with this snowdrift Christmas tree with dense heavy, flocking. This slim-shaped tree comes in 3 pieces, which are clearly marked for easy setup.
The branches and tips look very realistic, almost like the real thing!
The tree is already decked out with 350 clear lights with a warm glow, so you're good to go.
✔️1126 branch tip count
✔️Includes tree stand
✔️350 White clear lights
---
Snowy Avalanche 7.5′ Fir Artificial Christmas Tree
This Snowy Avalanche 7.5′ Fir Artificial Christmas Tree with Dual Color LED Lights looks like it has just been snowed on.
Featuring 1947 tips, this flocked Christmas tree looks full and luscious enhancing your Christmas Decor.
The tree comes with 750 LED lights that can change color from warm white to multi-color by using the included foot pedal.
Lights can remain steady, fading or flashing.
---
Pre-Decorated Flocked Christmas Tree
This beautiful lightly flocked tree is 4.5 feet tall and comes decorated with pine cones and shatterproof ornaments.
The tree comes pre-strung with 100 clear incandescent lights mixed with red and white G40 bulbs which give it depth.
Other features:
466 tips.
100 clear incandescent lights mixed with 50 UL-listed G40 red and white-colored glass bulbs.
4.5 ft tall.
Replacement bulbs included.
Includes metal stand.
Lightly flocked.
---
7 ft. Pre-Lit Heavy Flocked Spruce Christmas Tree
This Christmas tree features heavy flocking that looks like fresh clumps of snow. It looks very full (1023 tips!), so you don't need a lot of ornaments to dress up this tree, but that's totally up to you of course!
The tree comes pre-lit with 550 incandescent bulbs and a metal 4 prong stand.
---
7.5 ft. Snowy Aspen Spruce Christmas Tree
Beautiful lightly frosted blue ridge spruce with 500 lights. Your home instantly looks like a Winter Wonderland with this tree dusted with snow!
Features at a glance:
Available in 4 sizes: 6, 6.5, 7, and 7.5 foot.
Tree with fresh green pine tips decorated with pine cones.
Light flocked tree.
Pre-lit
Includes tree stand.
---
6.5 ft Alaskan Flocked Christmas Tree with Multicolored Lights
Enhance the mood of your Christmas decor with this flocked Alaskan Christmas tree with a full shape, 1045 heavy flocked branch tips.
Once set up it looks like a really natural snowy Christmas tree.
Assembly is required; the tree is delivered in 3 pieces which are easy to put together. The 6.5 ft flocked Alaskan Christmas tree comes pre-lit with 600 colored lights
---
12 ft Slim Flocked Fake Christmas Tree
Vickerman Flocked Tree, Unlit, Slim
There are many different types of flocked fake Christmas trees to choose from: lit, unlit, slim, wide, lightly flocked, heavily flocked and in many different heights. The above pictured Christmas tree is slim and unlit, with a height of 12 ft.
It has 4,689 green tips with heavy flocking on the branches. Comes with a metal stand.
Features at a glance:
12 ft. tall
Metal stand
4,689 PVC tips
Tree family: Kiana pine.
The perfect Christmas tree for small rooms or hallways.
---
36″ Frosted Pine with 100 Multi-Color Lights
This is the perfect lightly flocked Christmas tree for a side table or desk. It comes with a burlap base which is perfect for Farmhouse Christmas decor.
The tree features 208 branch tips and LED multi-color lights.
36 Inch tall.
Burlap base great for rustic/country/farmhouse decor.
208 Branch tips with multi-color LED lights.
Great if you have a small room or corner!
---
Best Flocked Fake Christmas Trees Buying Tips
Finding the best flocked tree for your home and budget is not an easy task and does require a lot of research. But effort does pay off and you will have a perfect Christmas tree for years to come.
Here are a few of our tips to find you the best flocked Christmas tree:
Space: The size of your living room is essential for picking out the right tree. How much space do you have and how high are your ceilings? You can find flocked fake Christmas trees up to 12 feet or more, but is it suitable for your room?
A small living room does not require a 9 ft tree, so find yourself a beautiful 6 or 7 foot tree that's also small in diameter.
Style: Determine what style of tree you're looking for.
Flocked fake Christmas trees come in a lot of styles like different shades of green or with a blue hue.
Some trees have pine cones, a bit of glitter on the branches or pre-lit with lights.
Also consider the width of your Christmas tree. Pencil Christmas trees look very stylish in a modern decor.
Warranty: Buy the best Christmas tree you can afford for your budget.
Check the warranty given by the manufacturer and aim for 5-10 years.
If they are willing to offer such a warranty you know they have faith in their product.
Glossary
Dura-lit lights
Dura-lit Lights have microchips in each socket. This ensures bulbs stay lit even when a bulb is broken or missing.
G50 lights
G50 refers to the size of the glass globe of the light. A G50 light globe is around 2 inch/50 mm in diameter.
More Christmas Trees
Sign up for our newsletter and receive a free Christmas planner!