Check out these best robotics gifts for kids! Robots are not just fun to play with, kids can practice their STEM skills and are building the skills they will need later in life.
Best Robotics Gifts for Kids
These are the best Robotics gifts for kids available now!
Makeblock mBot Robot Kit
Our posts contain affiliate links for which we may earn a commission. As an Amazon Associate we earn from qualifying purchases.
For Kids Age 8 and up.
The innovative mBot robot Kit packs a lot of fun into a small package and challenges aspiring programmers with innovative ways to explore the science of robotics.
This little robot has several modes to experiment with, like obstacle avoidance, line-follow and many more.
Controlling mBot is easy: Simply use the remote control or your smartphone App.
LEGO Boost Creative Toolbox
For kids age 7-11.
The LEGO Boost Creative Toolbox introduces kids to building and coding 5 cool and fun robots from this 1 set.
Vernie the Robot: A moving, talking, and dancing robot. Also cracks jokes and passes gas.
The M.T.R.4 (Multi-Tooled Rover 4): A robust, versatile rover with 4 different tool attachments including a spring-loaded shooter.
The Guitar4000: A musical instrument with pitch bend and sound effects.
Frankie the Cat: An interactive pet that plays, purrs, and expresses its mood.
The AutoBuilder: An automated production line that actually builds miniature LEGO models!
BB-8 Droid
For the Star Wars fan, this BB-8 Droid is the best robotics gift! They can program their own robot and use voice commands to control the bot with the app.
Unicornbot Robot Kit for Kids
Kids can now build their own Unicorn with lots of movement options! Download the app and learn how to program the Unicornbot using Blockly for hours of fun and learning!
Betus Non-Ticking Robot Alarm Clock
This little robot clock is so cute! The "hands" feature metal clips to hold messages and the eyes flash when the alarm goes off!
Great gift for kids and adults!
RC Walking and Shooting Robot
A cool robotic toy that shoots and walks with lights, sounds and even a dance mode is one of the best robotics gifts for kids.
Future Robots Engineer Shirt
For kids who already know what they want to be when they grow up!
Astronaut Robot Toy With 3D Lights and Music
Kids will love this awesome robot dressed as an astronaut that rides a hoover-board while jamming to some tunes. It comes with high speed wheels, flashing 3D LED lights and Bump and Go action!
Nintendo Labo Robot Kit
Kids that already own a Nintendo Switch will love this Labo robot kit, where they become a giant robot on screen!
How Things Work Book
This book is perfect for kids who have an interest in becoming an engineer or scientist and have an inquisitive mind. They can find how everything works including robots, refrigerators, microwaves and more!
Jimu Robot Inventor kit
For the more experienced kids, this advanced robot building kit offers anything they need to build Elephant, Giraffe, Rhino, Human, Wolf, Mantis.
Or they can use their imagination to invent their own bot.
Meccano Meccanoid G15ks
Construct your own 4ft tall robot with the Meccanoid G15KS building kit. It's an advanced project that might take several days to build, but when finished you'll have an awesome robot with voice recognition, learned intelligent movement (LIM) and motion capture.
Contixo R1 Kids Mini Robot Toy
This cute little robot can sing, dance and interact with kids. It has voice commands and touch sensors making it very easy to operate.
Available in pink, blue and green.
Jimu BuilderBots Kit
This building kit offers the choice of 2 robots to build: GrabberBot or DigBot. Kids can learn the bot to move, navigate, pick up obstacles and more using Blockly coding.
Sky Viper MEBO 2.0 Interactive Robot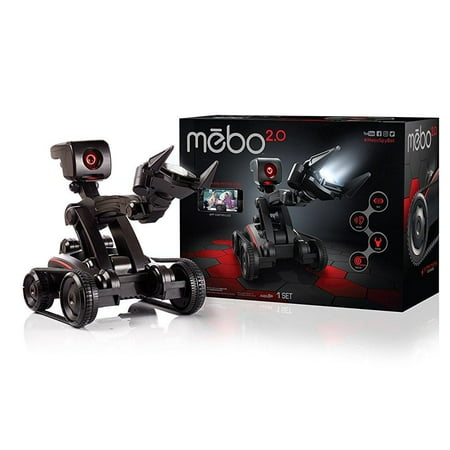 This cool Sky Viper robot does not require much assembling. Instead kids can download the app and use it to stream video, listen in on conversations in the next room and pick up small items.
Robotics: Smart Machines
With this kit you can build 8 different robots including a robodog and a robotosaurus.
Makeblock Airblock
The Air block is a multi form robot that kids can build using the Makeblock app. There are a lot of building options with this kit including drone, hoover-craft, dancing ball and more!
Walking Dinosaur Robot with Lights, Moving Wings and Sound
Suitable for kids from age 3, this dinosaur robot has all the lights, sounds and moving wings to keep kids entertained for hours!
More Gifts for Kids