Our posts contain affiliate links for which we may earn a commission. As an Amazon Associate we earn from qualifying purchases.
Last Updated on
Christmas shower curtains can add a lot of holiday cheer to your bathroom at a very affordable price. These curtains are easy to install and bring a lot of joy every time you take a shower. So don't forget the shower when decorating the house this Christmas.
Americana Holiday Shower Curtain
A modern looking shower curtain with 9 panels each featuring their own Christmas scene or symbol.
Christmas Bathroom Decorations Set
This Christmas bathroom decorations set includes a Christmas shower curtain, 1 bath rug, 1 contour rug and 12 decorative metal roller hooks.
Merry Christmas Buck Deer Buffalo Plaid Holiday Shower Curtain
Buffalo plaid is everywhere, even in your bathroom! Perfect for farmhouse bathrooms!
And look at these matching buffalo plaid bathroom decorations!
Christmas Buck Deer Black & White Buffalo PlaidBUY NOW
Christmas Buck Deer Buffalo Plaid Bathroom Bath SetBUY NOW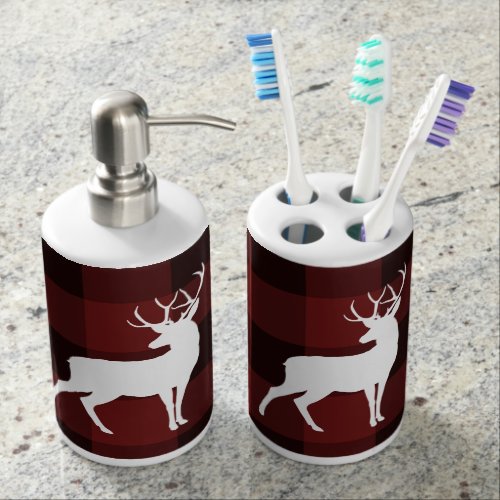 White Buck Buffalo Plaid Pattern Rustic Christmas BathBUY NOW
==> If you like buffalo plaid check out this awesome selection of buffalo plaid Christmas decorations here!
Santa & Sleigh On A Moonlit Night Christmas Shower Curtain
Doesn't this give you happy vibes! One of the best old school Christmas shower curtains, featuring Santa in his sleigh on a moonlit night. This curtain comes with hooks and is machine washable. Made of mildew and mold resistant, non Peva Polyester.
Retro Style Christmas Shower Curtains
What a lovely retro Christmas shower curtain this is! A cute little red car bringing home the Christmas tree. This Christmas shower curtain comes with plastic hooks is machine washable and mildew & mold resistant. Made from 100% Polyester and printed without dyes.
Related: Best Christmas Tree Toppers
Retro Mickey Mouse Shower Curtain
A chic and elegant shower curtain in soft green with retro Mickey print and Christmas ornament.
Farmhouse Christmas Red Truck Shower Curtain
This farmhouse Christmas curtain is such a cutie! We love the red truck carrying a Christmas tree!
Christmas Tree & Reindeer Christmas Shower Curtain
Another Christmas shower curtain that makes you want to sing because it's full of color and happy vibes! This is one of the most affordable curtains as well. It is 100% Polyester and comes with hooks. Cold water (machine) wash only, no bleach, no tumble dry.
Season's Greetings Christmas Shower Curtain
Another old school beauty featuring two nostalgic snowmen standing in a Christmas tree forrest. Made of 100% Polyester, wash in cold water only.
Santa Claus Christmas Shower Curtain
This jolly Santa has to be one of my favorite Christmas shower curtains, it's absolute Christmas if you ask me! It comes with plastic hooks, is printed without dyes, can be machine washed, is made of Polyester and mildew and mold free.
Merry Christmas Christmas Shower Curtains
We believe this is one of the more classic Christmas shower curtains on this list. It looks a bit like an old school Christmas card, which I really like.
It's a premium quality non PVC product with rust proof grommets and it's printed using colorfast printing technologies.
More Christmas Decorations